Silesian Interurbans
Info
Locale
Silesian, Poland
Transit type
Tram
Operation
Operator(s)
KZK GOP
Technical
Track gauge
1,435 mm

Route map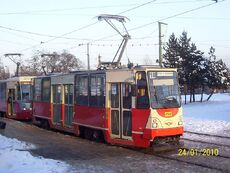 Silesian Trams are formed in 1894, the tram system comprising thirteen municipalities of the GOP-in: Katowice, Bedzin, Bytom, Chorzow, Czeladz, Dabrowa Mining, Gliwice (in Gliwice is only open section of the city limits to the tram depot in Gliwice, which is one stop), Myslowice, Ruda Slaska, Siemianowice Slaskie, Sosnowiec, Świętochłowice and Zabrze, an area inhabited by about 2 million people. Operated and maintained by a company Silesian Trams SA, whose shareholders are the municipalities supported (except Bedzin) [1].
The trams in Silesia and the Dabrowa Basin
Edit
The total length of railways operated by the Silesian Trams (excluding the Department of renovation) in 2009, is 341 km single track (km.tp) [2], including:
  1. 225.5 km.t.p. dwutorowych episodes (112.75 km of tracks)
  2. 96.5 km.t.p. single-track sections
  3. 24 km.t.p. in depot

The local tram network is the third in terms of length of routes in Europe [citation needed]. The entire communication tram is operated and managed by the company Silesian Trams SA (resulting from the Enterprise Communications Tramway in Katowice, dedicated in 1991 with the WPK Katowice) [3]. Poorly managed in recent decades, the company is in poor financial condition, and the technical condition of a substantial part of the infrastructure operated out of track and rolling stock is inadequate. Since 2006, however, implemented a recovery plan. Commercialized company Silesian Trams SA was the sole shareholder company of the State. Only in July 2006 came into force the Law on communalisation of state enterprises, which allows municipalities to take over state property. On 31 May 2007 in the building of the Silesian Museum located at the roundabout them. General Ziętka in Katowice, the Treasury Minister Wojciech Jasinski, President of the KZK GOP Roman Urbanczyk and the Silesian Voivod Tomasz Pietrzykowski signed an agreement on the acquisition of 100 percent of the shares of Silesian Trams SA by KZK GOP. From that moment KZK GOP became the sole owner of the company Silesian Trams Joint Stock Company.
The first line of the steam tram was launched May 27, 1894 on the route of the Grand Piekary - Szarlej - Bytom by the Berlin company Upper Steam Tram. Another episode, the same line running from Gliwice Zabrze to August 26, 1894 year. December 30, 1894 year the two ended in Bytom, Zabrze and combined line segments associated with a third by Ruda Silesian Zabrze and Bytom Chorzów to. The whole line of the Great Piekary to Gliwice comprised 34.5 kilometers in length. By the end of the first year of its lines transported 853,158 passengers. In 1896 he launched a line Katowice - Siemianowice and Katowice - Chorzow. In 1897 the line was Chorzow - Siemianowice. At the end of September 1898 the urban rail network had a total of about 75 km long and started the electrification. Another company, Maharashtra Cable has launched the first electric streetcar line September 7, 1899 from Katowice - Chorzow. A year later, launched a line Katowice - Myslowice. In 1900 the trams Upper przewiozły 7 603 856 passengers. Common management of the company merged in 1904. The first line of tracks have a clearance 785 mm, which since the mid-twenties, gradually converting to normalnotorowy. The first line was built from STANDARD Katowice market to Kosciuszko Park, two kilometers later in the year 1912, in 1913 and formed an independent until 1945 STANDARD Trams city Bytom. The last streetcar rolled off the Icons section of City-Square Chorzow Alfred (line 12) at the end of 1951.
Contrary to global trends, KZK GOP from 2000 restricts communication replaces another tram and bus lines, despite the dubious economic effects of actions. With effect from 1 April 2006 were made in an atmosphere of scandal winding lines 8 and 25 January 1, 2009 at the social opposition and opposition Siemianowice Slaskie city authorities closed down the line 12
September 1, 2009, despite protests by residents at the request of the Mayor of Gliwice, suspended Cruising lines 1 and 4 in Gliwice in the section between the loop tram depot located in the district Wójtowa Wieś.
Tram Rolling Stock
Edit
Modern Rolling Stock
Edit
Currently, Silesian Trams operate linearly six types of trams: Konstal N Konstal 105N, Konstal 105Na, 111N Konstal, Konstal 116Nd, Moderus Alpha.
In the years 1993-2000 did not bought new cars. Performed only repairs (all types of carriages) and upgrades (only cars Konstal 105N). In 2000-2001, bought 17 cars trójczłonowych Konstal 116Nd produced in factories ALSTOM Konstal in Chorzow.
Type 105N wagons are still subjected to varying degrees in the refurbishment and repair of various plants (own repair shops in Chorzow and external companies winning tenders announced), as well as upgrades go (after the upgrade are marked 105N-2K).
In 2007, the Silesian Trams announced two tenders for the modernization of rolling stock. The first one was won in Poznan Modertrans offering modernization "Moderus Alpha. Trams are equipped with new front and rear wall, a new desktop, new mechanisms for doors that open and close almost silently, pantograph-type half-OTK-2. Where 2 cars were modernized 105N. - District No. 1 Komunikacyjny Bedzin: # 535 - District No. 3 Komunikacyjny Gliwice, oddz. Winnipeg: # 788
The second tender was won MPK Łódź.Tramwaje been equipped with a new start pulse, a new manual setpoint driving external LED electronic displays and an internal air-conditioned cabin motorniczego, pantograph-type half-OTK-2. 5 cars were modernized there 105N. Another tender was announced in 2008. 20 wagons of a similar standard as the previous contract wyremontuje and modernize the MPK boat for about 20 mln zł. Silesian Trams now have a total of 25 such cars.
Wagons upgraded: - District No. 1 Komunikacyjny Bedzin: # 665, # 669, # 670, # 737, # 759, # 761, # 762 - District No. 2 Katowice Komunikacyjny Zawodzie: # 693, # 694, # 700, # 782, # 783, # 784 - District No. 3 Komunikacyjny Gliwice, oddz. Winnipeg: # 732, # 733, # 742, # 765, # 786 - District No. 3 Komunikacyjny Gliwice, oddz. Bytom Stroszek: # 722, # 766, # 774, # 775, # 777, # 778, # 779 Wagons # 693 and # 694 and # 783 and # 784 combined in warehouses.

Since 2006, when the MPK Krakow, wypożyczyło in exchange for 2 Konstal 111N 2 cars Konstal 105N, Silesian Trams also used to buy rolling stock (Konstal 105N) from MPK Krakow. Purchased a total of 36 wagons, with one deleted after an accident in Katowice at ul. May 3.
In addition to modernization of rolling stock of Silesia, a relatively strongly developed in repair work performed ZUR Chorzów Batory. Renovated in 2008, including 17 coaches of which 3 underwent overhaul.
Tram lines
Edit
| | |
| --- | --- |
| 0 | Katowice Plac Wolności – Dąb – WPKiW – Chorzów Stadion Śląski Zachodnia Pętla |
| 1 | Gliwice Zajezdnia – Maciejów – Zabrze – Zaborze – Ruda Płd. – Chebzie Pętla |
| 3 | Mikulczyce Dworzec PKP – Zabrze – Makoszowy Dworzec PKP |
| 4 | Gliwice Zajezdnia - Maciejów – Zabrze – Zaborze Lompy Pętla |
| 5 | Bytom Plac Sikorskiego – Szombierki – Bobrek – Biskupice – Zabrze – Zaborze Lompy Pętla |
| 6 | Brynów Pętla – Katowice – Dąb – Chorzów – Łagiewniki Wsch. – Bytom Plac Sikorskiego – Bytom Politechnika Śląska |
| 7 | Chorzów Batory Zajezdnia – Załęże – Katowice – Zawodzie – Szopienice – Burowiec – Szopienice Pętla |
| 9 | Bytom Plac Sikorskiego – Chebzie – Nowy Bytom – Wirek – Świętochłowice – Chorzów Ratusz |
| 11 | Katowice Plac Wolności – Dąb – WPKiW – Chorzów – Piaśniki – Lipiny – Chebzie Pętla |
| 13 | Siemianowice Śląskie Plac Skargi – Wełnowiec – Koszutka – Katowice Plac Wolności – Załęże – Chorzów Batory Zajezdnia |
| 14 | Wełnowiec Plac Alfreda – Katowice – Szopienice – Burowiec – Szopienice – Mysłowice Dworzec PKP |
| 15 | Katowice Plac Wolności – Szopienice – Sosnowiec – Sielec – Środula – Zagórze Pętla |
| 16 | Koszutka Słoneczna Pętla – Katowice – Brynów Pętla |
| 17 | Chorzów Ratusz – Świętochłowice – Piaśniki – Łagiewniki – Chropaczów – Lipiny – Chebzie Pętla |
| 18 | Bytom Plac Sikorskiego – Szombierki – Bobrek – Ruda – Chebzie Pętla |
| 19 | Stroszek Zajezdnia – Dąbrowa Miejska – Bytom Plac Sikorskiego – Łagiewniki Wsch. – Chorzów – Dąb – Katowice Plac Miarki |
| 20 | Chorzów Ratusz – Chorzów Batory Zajezdnia – Załęże – Katowice – Zawodzie Pętla |
| 21 | Milowice Pętla – Sosnowiec – Pogoń – Będzin – Dąbrowa Górn. – Gołonóg – Tworzeń Huta Katowice |
| 22 | Czeladź Kombatantów – Będzin – Dąbrowa Górnicza – Gołonóg – Tworzeń Huta Katowice |
| 24 | Konstantynów Okrzei – Sosnowiec – Pogoń – Osiedle Zamkowe Pętla |
| 26 | Milowice Pętla – Sosnowiec – Dańdówka – Niwka – Modrzejów – Mysłowice Dworzec PKP |
| 27 | Pogoń Akademiki – Dańdówka – Klimontów – Porąbka – Kazimierz Górniczy Pętla |
| 28 | Dąbrowa Górnicza Urząd Pracy Pętla – Dąbrowa Górnicza – Gołonóg Podstacja |
| 30 | Bytom Plac Sikorskiego – Szombierki – Bobrek – Biskupice Pętla |
| 31 | Stroszek Zajezdnia – Dąbrowa Miejska – Bytom Plac Sikorskiego |
| 35 | Biskupice Pętla – Zabrze – Zaborze Lompy Pętla |
| 37 | Zawodzie Pętla – Katowice – Załęże – Chorzów Batory – Świętochłowice – Piaśniki – Łagiewniki – Chropaczów – Lipiny – Chebzie Pętla |
| 38 | Bytom Kościół św. Trójcy – ul. Piekarska – Bytom Powstańców Śląskich |