N8C
Number built
76
Built from
1975-1994
Length
26648 mm

Width
2330 mm

Height
3650 mm

Maximum power
2 x 150kW
Passenger capacity
54 seats
72 standing
Manufacturer
DUEWAG
Düwag N8C (pot. Dortmund) - the type of streetcar in 1978-1986 produced by the German company Düsseldorfer Waggonfabrik (now DUEWAG). Tram is a series of M / N, produced for the German market in the years 1975-1994.
N8C has doors on both sides of the vehicle and the cab motorniczego at both ends. The vehicle is equipped with two doors and two large doors at the ends of narrow - no door in the middle part. The doors are equipped with fold-out rate, to facilitate entry to the vehicle from the rails. Wagons have a hinged window, starting thyristor, sanders.
In total, 76 units were built vehicles of this type - 54 to 22 for Dortmund and Kassel.
In 2007 he decided to importing a used vehicle type N8C to Gdansk, in order to complete and partial replacement of rolling stock, now dominated by warehouses 105N. In May, the service was introduced the first two copies imported from Dortmund. Ultimately, Department of Urban Transport in 2011 Gdansk, Poland intends to buy out all N8C withdrawn by Stadtwerke Dortmund (DSW21) - total 46 pieces [2].
N8C in Gdańsk
Edit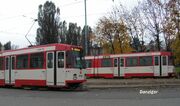 In 2008, ZKM Gdańsk decided to upgrade all purchased warehouses. It has to rely, inter alia, substitution of the middle section of the low-floor, changing the appearance of the two faces of configurations (the new replacement) and the mounting monitoring. In May 2008, was decided a second tender for the modernization (the first was blocked by one of the bidders) . One of these configurations tram was painted green - the colors of Lechia Gdańsk.