K-1
Built from
from 2001
Length
15,620 mm

Width
2,500 mm

Height
3,145 mm

Passenger capacity
40 seats
130 standing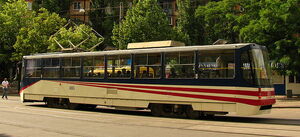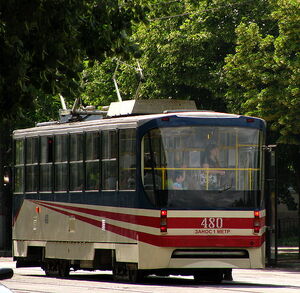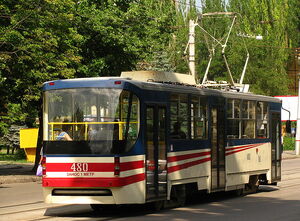 K-1 - Ukrainian tramcar single section is intended for broad-gauge rail transit systems, which in 2001 produced by "Tatra-South factory in Dnepropetrovsk" Yuzhmash. Developed based on carriage Tatra T6B5. Since 2003, K-1 is the only tram cars produced in Ukraine. today released 65 of these cars, they used the tram system in Ukraine.
At the end of 1990 the management of Tatra-South has set its zavdennya designers to develop new, improved tram car, which had come to replace the Tatra T6B5, which then produced now. This was to minimize dependence on foreign enterprise components.
The first test instance of this model made in 2001. It was painted in blue-white-blue colors (these models have a blue-white-red color) and had the modified front and rear. This car was fixed pulse system "KPTT-1. In 2002 this car was the test at the Kiev-based Darnitskogo repair depot operations and was pronounced fit for use. In 2004 it returned to the plant. In 2006, the test instance was installed update management system "KPTT-2", front and rear replaced Serial - Konotop sent to a car.
In 2003, JV "Tatra-Yug" produced two "transitional" cars for Donetsk. "Borderline" they called because they are building, as in the Tatra T6B5, and outside differ from it only changed svitlohabarytamy. Instead, all internal equipment in these models, like cars K-1. Since 2004, begins production of cars of this model.
From 2006 cars K-1 set update management system, "KPTT-2. Her trial was held on the balance of Dnepropetrovsk tram depot number 3 in 2005. To do this, the examinee car (serial number 99 032) was established only a few seats, and the rest filled with sand.
In the framework adopted in 2007 the Ukrainian government of the state program of modernization of electric city budget allocated a grant to purchase new rolling stock. [2] As a K-1 was the only tram cars, which serially produced in Ukraine at the moment it opened good prospects for the model - 2007 was a record production of cars K-1 (vprovzh it released 17 models).
In 2008, began testing the revised microprocessor control system "KPTT-3MP. To test the 99 032 used car, which has already been used for tests of the previous system, "KPTT-2. Testing takes place in Zaporozhye.
As of January 1, 2009 released 1965 model cars. Due to the global financial crisis and lack of funds in local budgets, since 2009 not released any carriage K-1.
Body and interior
Edit
Body made of steel, welded with forged letters. Sites that are most affected by corrosion, are made of stainless steel and composite materials. Body covered with corrosion-resistant lacquer and paint cover. Paint manufacturer's serial models white-blue-red: white bottom of the blue top navskisni separating two red stripes. In red and painted bumper car.
In early models set a screen door in later - swivel-sliding (planetary). Screens, door identical doors Tatra T6B5. Wagon has five side windows on the right side and 8 - on the left. Identical windows windows carriage Tatra T6B5.
Car equipped with heating and ventilation. Its elements roztashvani side walls near the car. Cab is heated by a separate Electroheaters.
In car 40 seats. Chairs do not have casings made in the red color spectrum. Planning interior includes two rows of seats on the left and a row - on the right.
Interior lighting provided by fluorescent light.
Specifications
Edit
Trolley wheels have a simple and efficient design. Wheels sprung rubber elements, which reduces noise while driving. Traction motors are running on the carts, they z'yadnani geared through cardan shafts. In car engines used Tyagun samoventylyatsiyeyu Kharkiv plant "insulation".
Transistor is used to train control system IJBT-transistors. With this system substantially decreases absorption of electric power network in traction mode, and also provides regenerative braking carriage in which the traction motors produced electricity back into the network as an electrical current. Overall, this system allows you to save about 40-50% of electricity. Current as determined by pantograph or napivpantohraf.
At first original carriage drive installed KPTT-1, later on - KPTT-2. It, unlike the first, reverse traction motor is provided by power transistors switching at zero current. Due to this, power contactors completely excluded on the tram. For power and lighting networks operating voltage of 24 set in a static inverter YPT 820/28-210. In both systems shared governance is used trolleys, which reduces slipping and boksyvuvannya wheelset, and also provides one motion to the carriage polomtsi second.
Established recuperative braking is provided, and electrodynamics, to a complete stop, disc brakes, emergency - an electromagnetic rail brake, which also applies to cars Tatra T6B5.