GT8
Number built
Built from
1957-1976
Length
25647 mm

Width
2350 mm

Height
3350 mm

Maximum power
kW
Passenger capacity
60 seats
200 standing
Manufacturer
DUEWAG
Düwag GT8 (Engl. sweat. Helmut [1]) - the type of streetcar in 1957-1976 produced by the German company Düsseldorfer Waggonfabrik (now DUEWAG). GT8-type wagons are in slightly different versions of 2, resulting from an increase of the middle member of the wagon-type GT6 for business communications in Düsseldorf (Rheinische Bahn Gesellschaft) and communications companies in Frankfurt (Frankfurt am Main Verkehrgesellschaft).
Production history
Edit
In the mid 1950's in Germany greatly increased ridership. Consequently, the Government of Düsseldorf decided on the need for large-capacity trams. As a developer and manufacturer of trams was chosen as a local company Düsseldorfer Waggonfabrik, later dubbed Duewag. The result of her labors were dvusochlenennye GT8 and odnosochlenennye GT6, first introduced in 1957.
Production of these cars himself took Duewag. But soon his capacity sorely missed. Then the production was established and the company's plants in Rastatt. GT8 concurrently produced at the plants of these companies until 1969. This year Duewag ceased production GT8, and the rights to it and all its modifications have been transferred to the company DWM, which is a few years later sold the rights of Berlin Waggon Union. WU let these cars without upgrades until 1977, and after a small upgrade GT8 did not leave the assembly line WU until 1980 under the symbol GT8-60.
In 1971-1972, 1981-1982 and 1990-1991 Duewag reinstated in their production GT8 heavily to modernize it. The cars were manufactured and commissioned by Freiburger Verkehrs AG, the main carrier of Freiburg, for which he received the name «GT8 type of Freiburg (German Freiburg Typ).
Exploatation
Edit
GT8 in Germany
Edit
For a long time trams operated in such German cities like Mannheim, Karlsruhe, Dusseldorf and others. Many Karlsruevskie and Dusseldorf trams were converted from GT6 through the incision middle part. Also in one of the cars Karlsruhe (№ 211) all electrical equipment was replaced with a more modern production company Siemens.
Recently GT8 began actively replaced by more modern low-floor counterparts. The old trams are destroyed, but many of them daryatsya in cities near and far abroad (eg in Lodz (Poland), Helsinki (Finland), and others), several cars were left in the museums of the local tram. Last GT8 to leave the German streets in 2010.
GT8 in Poland
Edit
GT8 in Poznan
Edit
Given the huge increase in demand in 1998-2003 the main carrier of Poznan (MPK) agreed on the need for trams GT8 from Germany. Currently in Poznan is located 40 cars of this type: 29 were transferred from Dusseldorf, and another 11 from Frankfurt. GT8 mainly used on routes 2, 7, 8, 9, 11 and on the night route N21. Despite the age of cars aolmki they are rare. GT8 were highly appreciated by passengers, who have to call them "strong Helmut.
GT8 in Lodz
Edit
In 2006, the company Międzygminna Komunikacja Tramwajowa acquired Lodz for the first few GT8, recently written off in Freiburg. In connection with the construction of regional tram lines in Lodz trams had to stand immobile for some time in the depot. Currently in operation are the following cars came in 2006:
   * № 203 - since June 2006;
   * № 204 - October 2006;
   * № 201 - November 2006;
   * № 202 - November 2006.

In 2007, in Lodz was delivered a few cars GT8, only this time it was polunizkopolnye GT8N of Mannheim. Due to the fact that these cars had two round headlights and were originally painted in green color in the people they called frogs. All GT8N were placed in the depot Helenówek, but in connection with the construction of regional lines in Lodz these trams also had some time to stand without moving. Currently in operation are the following cars came in 2007:
   * № 515 - 19 April 2007;
   * № 506 - 27 April 2007;
   * № 513 - 28 July 2007;
   * № 511 - 5 August 2007;
   * № 509 - September 2007;
   * № 514 - from 11 October 2007.

All cars were sent to the route number 46, long of 34 kilometers.
Variations
Edit
Typ Freiburg
Edit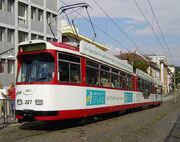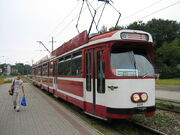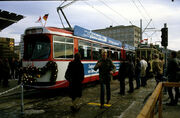 Description wagon
Edit
The structure of some lines of Freiburg does not allow them normal GT8 due to the fact that the trolley Jacobs could not work on some special curves bends. This necessitated by our own versions of GT8.
The main technical difference of Freiburg tram type is to use them instead of conventional bogie Jacobs bogie. Carts were placed as follows: one under the first section of the car, two for second and one for third. Also, these cars were longer than usual GT8: instead of 26000 mm in length was 32845 mm. Some years it cars GT8 Freiburg type is the longest on the planet.
First series (1971-1972)
Edit
In 1971, the Freiburger Verkehrs AG (FVAG) acquired the company Duewag four cars of this type with numbers from 201 to 204th.
In these cars were found a special place for the conductor. The original cars had a creamy color, but in mid-1980's, they were repainted in red and white colors.
In 2001, the exploitation of these cars in Freiburg has been suspended. With the help of a mediator, in 2006, all these trams were sold in Lodz.
Second series (1981-1982)
Edit
After a good experience of operating the first four GT8 Freiburg type and a decision to expand the line in the late 1970's FVAG decided to order some more of these trams. They were put into operation in 1981-1982's by and received numbers from 205 to 214. These cars were already at the factory painted in the new red white color. Also in the second series it was decided to completely abandon the place for the conductor.
Cars of the second series were at 12 centimeters wider than their predecessors. This allowed to make a wider cabin, but required a shift rails in some places (eg the gate Schwab).
Operation cars № 205-209 was suspended in 2004. Number 205 is in the tram and maintained in working condition, № 206 is now for sale, № 207 destroyed, № 208-209 were transferred to Ulm. The remaining cars № 210-214 until now operated in peak hours and during the matches of football club SC Freiburg.
Third series
Edit
In 1990-1991's by FVAG ordered eleven more cars. This time it was cars like GT8N that is low-middle part. The rest is the same as the second series.
Cars were numbered 221-231. In 2001, they were set matrix displays. Now all the cars third series operate on routes, № 1, № 3 and number 5.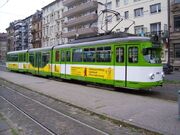 In some cities (eg in Mannheim) old GT8 been Mannheim) old GT8 been upgraded in GT8N. The modification was as follows: out of the car was stripped standard instead of the middle part of which established a modern low-floor of the middle part of which established a modern low-floor which established a modern low-floor. This upgrade would greatly extend the life of these extend the life of these trams. In some cities(Mannheim, Lodz, etc.), such modifications are still in use.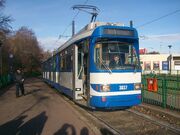 GT8S produced in the years 1973-1975 for the lines of Düsseldorf. A total of 69 cars were produced. From the original GT8 GT8S differ headlights, a new half-power equipment and other layout of doors: on the one hand is the 3.4 door, and the other only three. In September 2009, one car was purchased for use in the city of Krakow. In the near future transfer of another 27 cars. One model will remain in Dusseldorf as a museum exhibit.
In connection with the construction of U-Bahn in Düsseldorf, it was decided to convert 40 GT8S so that they could maintain such lines, lines with high platforms. Modernization was the installation of special thresholds, thereby depriving the inconvenience of passengers when boarding and disembarking in such cars. Before our time in Düsseldorf survived 34 such cars, they are used on the line U75, but at any moment they can be deployed on any city route.
In Freiburg there are several tram lines without turning the rings. turning the rings. Purchased for these lines in the period from 1962 to 1968 GT4 technically "not kept pace with the times" and could no longer cope with increasing passenger flow with increasing passenger flow.Thus, in 1993 and 1994 it was decided to purchase 26 specially designed bilateral GT8 Freiburg, that have been index GT8DMNZ. New cars have numbers from 241 to 266. numbers from 241 to 266. All of these cars had interior with a high level of comfort. Soon FVAG refused to purchase such cars because of their very high cost. From 1999 to 2006, instead of the GT8, it was decided to purchase new decided to purchase new trams Siemens Combino.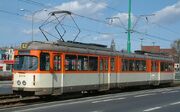 Bilateral changed GT8 produced in 1969. Tota plant produced six of these cars destined for work on the line of Offenbach am Main in Frankfurt, which was not a reversal of the ring reversal of the ring. Externally tramway differs from the usual GT8 from the usual GT8 presence of the second cabin, additional pantograph presence of four doors on each side and the other design headlights headlights.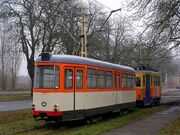 GT8 + B4 is a standard GT8 with non-motorized trailer hitched behind the wagon hitched behind the wagon MAN B4. Cars B4 are three doors 31 seats and up to 110 standing . Until November 2009 these systems were these systems were operated in Krakow, but now mainly used in the German Dusseldorf.